MAP Rain model infographic shows some of the analytics solutions built using the MAP Rain model
MAP Rain is a generic real-time model built using MAP for processing, primarily, radar and forecast rainfall data. The model delivers all the underlying process of fusing the historic, current, Hyperlocal (our own 1-hour forecast) and forecast rainfall data together for any area, resolution, or size of cutout (the area over which we process the rainfall data). Built into MAP Rain are lots of methods to re-sample, aggregate, extract and re-process the rainfall data. These ensure we have the flexibility to apply rainfall data to any point or polygon in the overall cutout area. All these methods are available as API calls.
We use MAP Rain to build a broad range of applications that have rainfall data at their heart. The number of such applications continues to rise and we can deliver all these applications to multiple customers on one instance of MAP.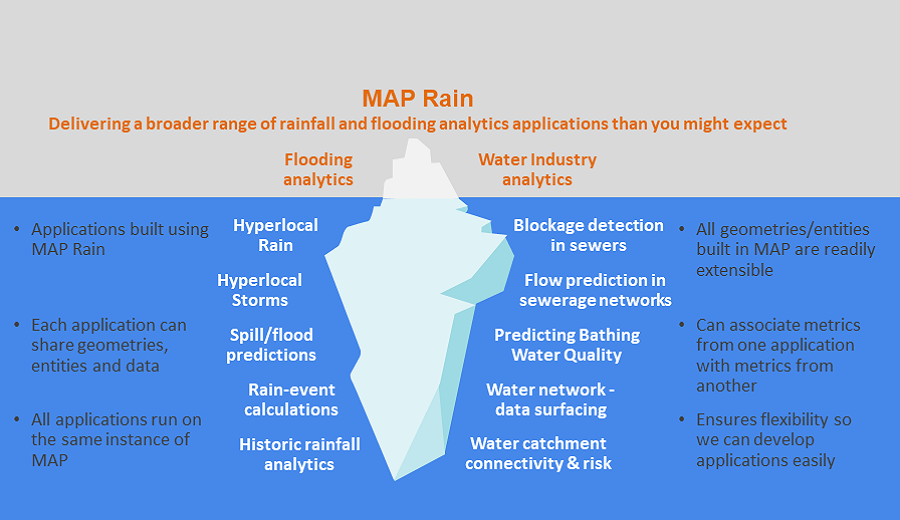 More information on MAP Rain
https://www.meniscus.co.uk/wp-content/uploads/2016/06/meniscus-300x120-300x120.jpg
0
0
meniscus
https://www.meniscus.co.uk/wp-content/uploads/2016/06/meniscus-300x120-300x120.jpg
meniscus
2021-11-30 13:51:56
2021-11-30 13:51:56
MAP Rain model infographic