Optimize battery storage by predicting power output
Case study – Short term solar irradiance predictions and impact on PV site revenue
This case study summarises the work completed in an InnovateUK collaborative research project to optimize battery storage at PV sites using short term solar irradiance predictions. As a result of this work, the project delivered the following outcomes.
Deliver solar irradiance predictions for the next 2 1/2 hours at 15 minute intervals using the latest satellite imagery
Understand the relationship between solar irradiance and inverter output power
Model how short term solar power and solar irradiance predictions can increase revenue from Demand Side Response (DSR) schemes
Use this data to optimize battery storage
Quantify the financial benefits and the break even point in terms of site of PV site
The project uses near real time satellite imagery to predict the path of clouds and to predict the solar irradiance at any location for the next 2 hours at 15 minute increments. Therefore, by predicting the solar irradiance we can predict the solar power output for the site and optimize battery storage and increase revenue from the National Grid's Demand Side Response programme.
The Project found that PV sites larger than 2MW would benefit from this technology and it is especially coct effective for sites operating 'behind the meter' with either battery storage or with on-site demand.
The project finished in January 2019 and was built using the Meniscus Analytics Platform (MAP).
Project partners:
Meniscus Systems Ltd: Lead Partner providing the data analytics and processing capability to deliver solar irradiance predictions
Open Energi: Providing expertise to deliver accurate, real-time PV-based DSR solutions to DNOs and owner/operators of solar farms
BRE National Solar Centre: Responsible for ensuring the system meets the requirements of the PV industry. Providing domain expertise and access/advice on technical solar issues.
Cornwall Council: Owner/operator of one of the solar farms used to test and demonstrate the system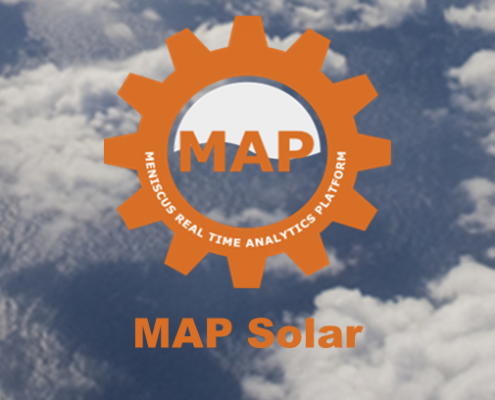 https://www.meniscus.co.uk/wp-content/uploads/2016/06/meniscus-300x120-300x120.jpg
0
0
meniscus
https://www.meniscus.co.uk/wp-content/uploads/2016/06/meniscus-300x120-300x120.jpg
meniscus
2019-01-29 18:06:00
2019-11-14 08:25:23
Optimize battery storage by predicting power output