PREDICTING FLOWS AND ENERGY SAVINGS IN SEWER NETWORKS – HUNDREDS OF CATCHMENTS IN REAL TIME
MAP Rain and MAP Sewer are two real time data analytics solutions that help Water Companies improve quality of service whilst reducing operating costs. MAP Rain lets you integrate historic, current and predicted rainfall analytics into your solutions. MAP Sewer is an add on to MAP Rain to predict flows into pumping stations and sewers. 
Our solution helps to:
Improving operation of the Wastewater Network by predicting hydraulic overload
Reducing Future Flood Risk by predicting sewer flooding
Reducing Category 1, 2 and 3 Pollution Incidents by predicting flooding in sewers, pumping stations and CSOs
Providing historic radar rainfall and Environment Agency rain gauge data for any location or catchment
On Demand calculation of rainfall Return Periods (using FEH99 method) for any location
Reducing Energy Costs with real time Demand Management to reduce Distribution Time of Use (DUoS) charges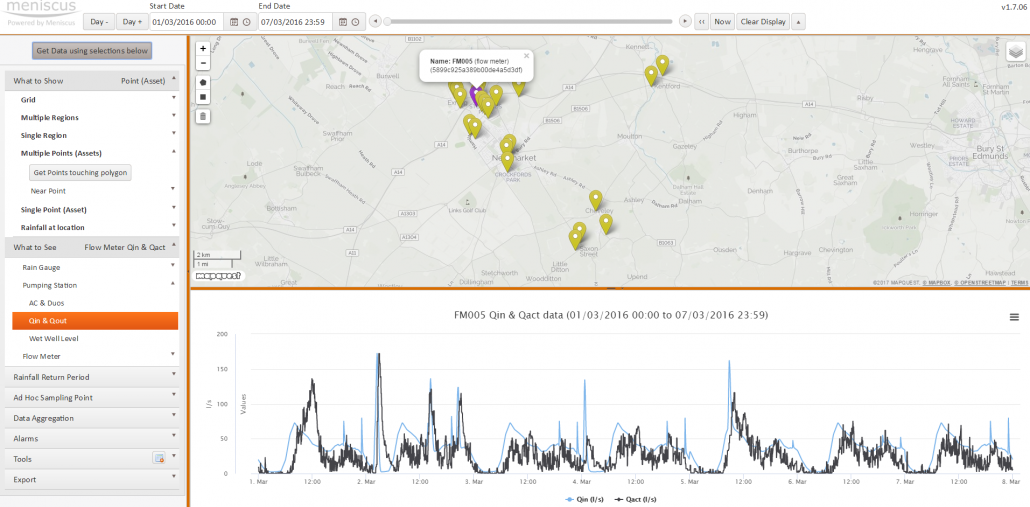 Helping Water Companies to improve Outcome Delivery Incentives (ODIs) and reduce energy costs using advanced real time analytics
Meniscus has a comprehensive understanding of the Water Industry and in delivering process based energy, chemical and a range of real time analytics solutions based around integrating real time rainfall data with operational asset information. These case studies demonstrate how MAP is used to predict Bathing Water quality, identifying where CSOs are discharging and sewer levels are high in dry weather conditions, predicting pumping station flows in the sewer network and delivering a range of complex process based energy and chemical monitoring solutions.
Meniscus provides analytics solutions for over 2,000 water and wastewater treatment assets sites.
These solutions process a range of different operational datasets from hours run data, flow, chemical tank level, energy and many more. We are delivering these solutions using our core MCE and MAP analytics platforms. These solutions include a range of visualisations in the form of customised dashboards, widgets and scheduled management reports. Both MCE and MAP have comprehensive RESTful APIs so that developers can readily integrate both platforms directly into their own analytic solutions.
http://www.meniscus.co.uk/wp-content/uploads/2016/06/meniscus-300x120-300x120.jpg
0
0
meniscus
http://www.meniscus.co.uk/wp-content/uploads/2016/06/meniscus-300x120-300x120.jpg
meniscus
2017-06-06 14:14:07
2018-05-25 15:38:21
Predicting Flows in Sewers to Reduce Energy Costs